Chris Froome on a cheetah...what else would you expect? Don't know who to credit this image to, but I'd wish I did.
Time trials. Many consider them to be the purest form of bicycle race there is. No drafting, no teammates, no lead outs, just you and your bike for what seems like eternity. There are tactics to be sure, like when to push, when to rest, which bike to ride...sometimes you have to decide that one multiple times. The ability to sustain a nearly full effort for upwards of an hour on varying grades of road is ultimately the only thing that matters. The strongest man wins and everybody else is left wanting, and wondering how to beat a man who seems to have no weaknesses. Today's race was not your ordinary time trial, it had nearly a thousand meters of climbing, far more than your normal race of truth. This meant that the pure climbers actually had a shot to podium, or at the very least to limit their losses. They took full advantage of the profile and managed to claim the top ten spots on the leaderboard.
The Norwegians are very comfortable in their own skin - TDF 2013 stage 17 - Photo Credit: Casey B. Gibson
This centenary tour continues to provide some of the best racing in years and today's time trial was no exception. There may be little question as to how the race will end up in Paris, but nearly each days race - taken on it's own - has been phenomenal in the amount of drama and excitement it has gifted to those of us who love this race.
In no particular order here are my thoughts on today's amazing day of racing:
Froome in all of his rail thin glory - stage 17 - Photo Credit: Christophe Ena/Ap photo
Chris Froome is good at bicycle racing: On today's stage he had to dig down deep to win. It wasn't a surprise that he won mind you, but he really had to work for it...and work he did. He was 2 seconds back of provisional leader Alberto Contador at the first check and 11 seconds behind at the second check. When you throw in the bike change that he made (I don't like that they allow bike changes, but that's for another post) and he had to make up around 15 seconds on Contador. He did that and more, winning by a full 9 seconds and strengthening his already vice like grip on the general classification.
Alberto Contador sucking through an invisible straw (I hope) - stage 17 - Photo Credit: Bike Radar
Contador is coming into great form in week 3: He may feel that it is too little too late and he may be reeling with disappointment at coming so close today, but Alberto's racing has really improved as the tour has gone on. It bodes well for his chances to maintain his second place in the GC through the high mountain stages that are coming in the next 3 days. He struggle a bit compared to his teammate Kreuziger last weekend, and it will be interesting to see how it plays out for Saxo Tinkoff with only 17 seconds separating their two top riders.
Dirty beard - stage 17 - Photo Credit: Laurent Rebours
Dirty rode the TT of his life: Alejandro Valverde is not known for his time trial abilities, and actually is probably better known for his horrible time trial performances in the past. His fifth place finish only 30 seconds was a revelation for the Spaniard. Dirty stepped it up today. I'm still not a fan, but I can respect a good ride when I see one.
Purito's pain face - stage 17 - Photo Credit: CorVas/Pez Cycling
JRod might have saved his podium chances: Like Valverde, Purito is not known for his time trialing prowess. Though he's not been horrible in his career, he has given away a lot of time in previous time trials - including the first TT of this tour. Today was a different story however, third place and only 10 seconds behind Froome pushes him to within only two minutes and thirty seconds behind the current third place holder. With plenty of vertical feet to ride, he has a shot to gain that time back between now and Saturday...expect fireworks from the Spanish climber.
Roman Kreuziger Stage 17 - Photo Credit: Bike Radar
Kreuziger kept the pressure on: Roman's ride to fourth place kept his podium dreams alive, and as I stated earlier, the tension in the Saxo Tinkoff team bus at a moderate level. He finished only 13 seconds behind his team leader on the stage and though he'll no doubt be saddled with the responsibility of riding for Contador, should the Spaniard falter in the mountains, he'll be ready to step up.
Bauke on his way up the hill, and down the leaderboard - Stage 17 - Photo Credit: Roadcycling UK
Bauke bombed: Much like his Belkin teammate Laurens Ten Dam did yesterday, Bauke Mollema blinked on the big stage and was the days big loser. He rode shaky and even crashed into a retaining wall within 1 km of the finish. The result was that he dropped second place down to fourth. He still has a great chance to gain it back thanks to his climbing abilities and having the support of a teammate like Ten Dam who can climb well in his own right. He'll have his hands full with a group of Spaniards intent on disrupting things over the next three days.
The young guns - totally forgot to get the photo credits and now it's late and I'm tired - apologies if these were yours.
The future is bright:
Nairo Quintana in
6th, Michal Kwiatkowski in 7th, Andy Talansky in 9th and Teejay Van garderen in10th place are all riders aged 24 years old or
less
. After todays stage only Teejay sits outside of the top 15 in the overall GC. These kids are for real and they are very arguably riding clean - it speaks volumes about the direction the sport is going and the amazing racing that we'll have presented to us fans for years to come.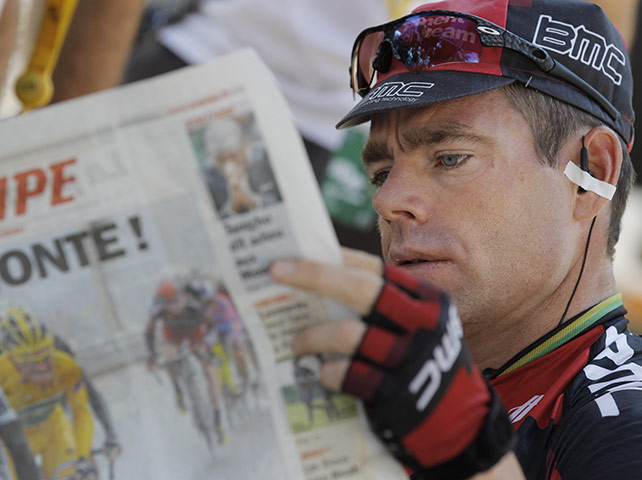 Cadel Evans reading the writing on the wall - stage 17 - Photo Credit: Christopne Ena/Ap photo
It's over for Evans: Cadel had another awful day on the bike. The pride of Australia finished over eight minutes behind the winner...it was so bad for him that even Mark Cavendish bested him... and he was just trying to make the cut. I don't know if Evans will retire after this year, but if he does he can depart the sport he loves with head held high and secure in knowing that he did great things for the sport as the first tour winner from down under. He also would leave with what would appear to be a clean conscience of having ridden clean...not something too many of his peers can claim.
Couldn't find a good picture of Andy from today, so I used this one from the 2010 TDF where he's riding next to some dude wearing a yellow bikini - Photo Credit: Bernard Papon/POOL
Andy is alive:
Last but not least there was a Shleck sighting in the top 15 of a stage for the first time in I can't tell you how long. It would seem that he is finding a sliver of his old form and that the challenges of the broken pelvis are finally fading into the past. There's no telling exactly how much of the old Andy will be able to be reclaimed, but at only 28 years old he still has time on his side.