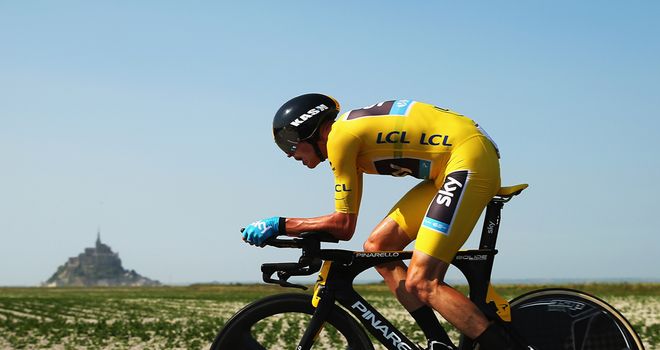 Busy busy busy. The last two days have been busy at the office and at home. So I missed my recap on the all important Time Trial to Mont Saint Michel. I'm sure you've read about it from someone else already so I'll just point out what I consider to be the interesting bits.
Mont Saint Michel seems like an incredible place, and what a backdrop for a bike race. As Liz Lemon would say: "I want to go to there".
Tony Martin is still the best. True, without Fabs there his victory is a little scuffed, but it was a great performance, especially when you consider the injuries he's had to overcome after being flattened by the Greilla on stage one.
Christopher Froome might as well have stood along the road and hit each one of his competition with a sledge hammer. His ride basically had the same effect - which was a thorough beatdown of anybody who was still harboring thoughts of wrestling the yellow jersey off of his back. With his nearest competition a whopping 3:25 back, he has a cushion the size of Wendy Williams booty to work with...which is to say, A lot. For now I'll enjoy it for the amazing performance that it seemed to be... and hope that the info in this article has some sort of plausible explanation,
Peter Sagan rode a great race. 17th place and 2:18 back of Martin, but only a minute or so back of everybody besides the winner and Froome. It bodes well for his future chances in some of the minor stage races in my opinion....if he could just work on his climbing!
Dirty Valverde put on a good show and limited his losses to remain in second place 12 seconds ahead of Bauke Mollema. Never a strong point for him, he pulled off one of his best efforts in this time trial and he heads into the Alps in a great spot for a podium.
Richie Porte is the real deal. Sure he took a shellacking on Sunday's stage 8, but that was after putting in a monster performance up Ax 3 Domanes the day before in support of Froome. His 3rd place finish only 1:10 behind Martin speaks volumes for his future potential to be the next tour winner from Australia.
Michal Kwiatkowski continues to wow. 5th place on the stage and 7th place over all with a shot at a podium. Omega Pharma has a real gem on their hands in this 23 year old, and they'd be wise to get him locked up to a long term contract asap. What a great GC balance he can be to Cav's championship level sprinting.
Andy Talansky put in a strong ride to finish 12th. The Alps might hold the key to a possibly bright future for this young American...hoping for a continued strong finish for the kid from Miami...I'm sure JV feels the same way.
Some big losers on the day:

Nairo Quintanana - That 2nd in the El Pais Vasco time trial was not to be repeated here.
Jaoqim "Purito" Rodriguez - He's gotta do better than 56th place if he wants to seriously challenge for a podium.
Cadel - The days of the deisel chugging to good things in major time trials seem to have passed.
Contador - For some 15th place would be great, but for a former TDF winner (ish) he needed to step up and battle with Froome here..but he couldn't. Is Kreuzinger the Saxoff team leader yet?

But the biggest time trial loser of all? As usual it's Andy Schleck. I know he's still working his way back from the broken pelvis, but this was a disaster. I'll never understand why he can't get better at this discipline. He has so much potential to be great...or does he? Maybe he's not meant to be a great time trialist...maybe he just is what he is and he's been over reaching this whole time?
So there you have it. All the Stage 11 news that's fit to print regarding the first major TT of this tour. Can't wait for the weekend and the coming big battles in the high mountains.