One of the most amazing cycling photos I have ever seen - Stage 19 2013 TDF - Photo Credit: CorVas/Cyclingtips
This photo is stunning. It captures all of the drama of the fight for the stage and the GC lead in one incredible moment. Not just any moment mind you, but the moment. That instant where the world realized that for the first time in this years tour, at a crucial moment, Chris Froome was struggling. His arm looks like it is floating, almost beyond his control skyward. Porte is looking back over his shoulder for his leader, he may be starting to hear Froome's voice as it calls out to him. JRod and Quintana's faces are stoic and focused...locked in on the moment to overcome the otherworldly pain that envelopes them. They are still unaware of the coming issues for Froome. The perfect scenario is unfolding behind them and they don't even know it yet. At this point they are still reeling from the sight of Porte leading them...after he had been dropped once. They must be expecting Froome to come around them and force the issue at any time. They are preparing for the brutality of that moment but instead, in a few seconds they will realize he has dropped off the pace and they will reach for another gear and find their wind as an unexpected hope appears. They will work together to distance the maillot jaune and when the dust settles they will gain 59 seconds on Froome and more importantly move in to 3rd and 5th place in the GC, with 2 more high mountain stages to go.

They will learn later that it was not a mechanical as it appeared and as so many of us thought. It was Froome cracking on the biggest day of the tour. They will know that he is human, that he may be vulnerable, and they will plan to attack again and again over the next 2 days in the high mountains. The tour leader will be tested like he never has this weekend by these two and the other GC contenders and it will be amazing to watch.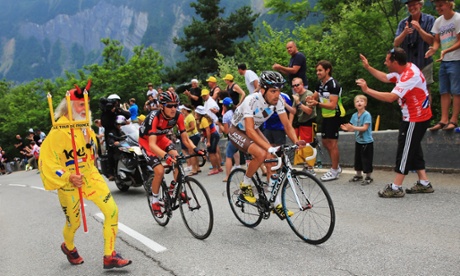 The Didi is in the details - stage 19 2013 TDF - Photo Credit: Doug Pensinger/Getty Images
All of this was happening while up ahead another dramatic battle was taking place between the American TeJay Van Garderen and the Frenchman Christophe Riblon. Both nearly had their races ended earlier in the stage - Tejay by a chain mechanical, and Riblon by an overshot corner on the descent where rode off the side and into the grass...luckily without falling. They had put those issues behind them as they rode up L'Alpe D'Huez for the second time today. Riblon struggled and Van Garderen broke loose with Cannondale's Moreno Moser who he then dispatched a few kilometers up. His lead would stretch out to 45 seconds, but on the second half of the climb Riblon found his legs again and Tejay lost his. It was painful to watch as the American struggled to keep his lead. Riblon was reeling him in kilometer after kilometer. With 4 km left it looked like Van Garderen might hold him off, With 2.4 km to go it was slowly slipping away, and with 1.9 km to go the decision had been made.
Riblon celebrates just past Dutch corner - stage 19 2013 TDF - Photo Credit: AFP/AFP photo
Riblon rode by Van Garderen with relative ease. The gravity of the moment must have hit him and given him extra strength. For there is no better place for a Frenchman to win a stage of Le Tour de France than at the summit of L'Alpe D'Huez. Riblon is a national hero for his performance and will go down in history for this magnificent ride. He wept as he crossed the line and I'm sure those were not the only tears flowing. Van Garderen rolled over a full 59 seconds behind the winner. He looked broken at the line despite putting in a fantastic ride for second. But you do not come to the tour to finish second. You do not ride L'Alpe for anything other than the top step of the podium. I'm sure in time Tejay will be able to look back at this day fondly and enjoy the amazing accomplishment for what it was. A truly epic ride on a truly epic day at the 100th Tour de France.